Protecting privacy of the patient is of utmost importance. Hence all data available in CHAVI is de-identified. In order to ensure that de-identified data is put in the CHAVI system, a bespoke de-identification system was developed. This de-identification system (CHAVI DDIS) was created to fulfil several objectives:
De-identification of DICOM images
Allow de-identification of DICOM RT data objects viz. RT Structure set, RT Dose, RT Plan while retaining the relationship between the objects.
Allow de-identification of multiple studies while retaining longitudinal temporal integrity - that is, date differences are maintained between studies while dates are de-identified. 
Allow de-identification of linked clinical data while retaining the longitudinal temporal relationships. This clinical data is different from data encoded in the DICOM object and is stored separately in the database. 
Ensure that linkage between the original identifying information and de-identified data is maintained in a secure, local and separate database to allow re-identification of the data if required. 
The de-identification system is installed in a separate computer and de-identified objects are transferred to the CHAVI data storage server. CHAVI cannot accept images or clinical data which have not been de-identified using the CHAVI DDIS.
To read more about the CHAVI DDIS please see this paper :

Kundu S, Chakraborty S, Chatterjee S, Das S, Achari RB, Mukhopadhyay J, et al. De-Identification of Radiomics Data Retaining Longitudinal Temporal Information. J Med Syst. 2020 Apr 2;44(5):99. http://dx.doi.org/10.1007/s10916-020-01563-0

 
Design Overview
For DICOM de-identification, we will be using a system for anonymization of DICOM images and the image databank will be created on a different web based system to store/retrieve the de-identified images. These two systems are isolated from each other. Users of the de-identification system will be only from the host institute while, the web based system (CHAVI-RO) which will be in public domain and will have also external users for accessing image bank data.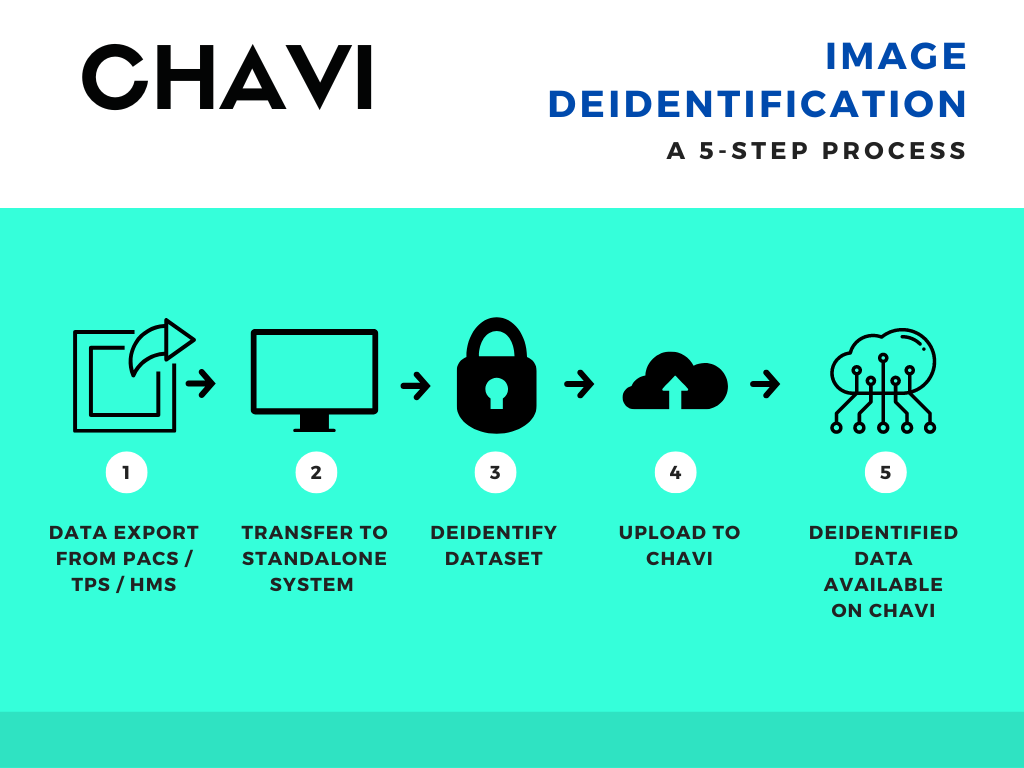 De-identification System
This system will de-identify the DICOM images. It accepts a single DICOM image or a DICOM series (.zip format) as an input from the external drive and provides de-identified DICOM images. The process flow of de-identification is shown in Figure 2.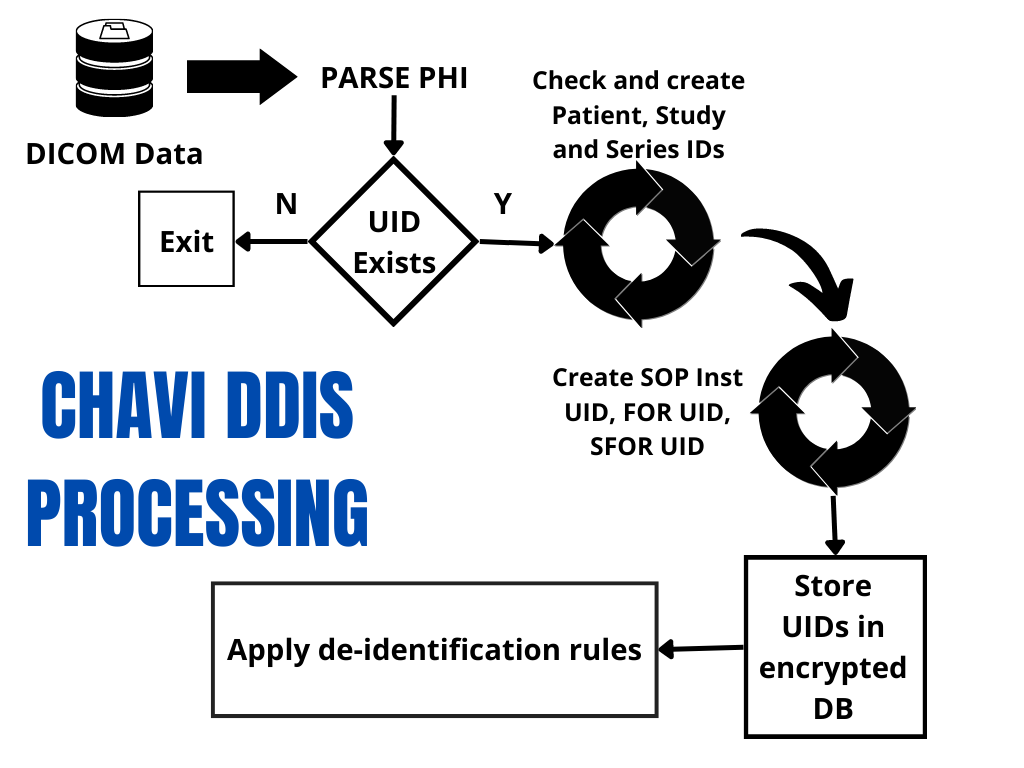 The steps involved are detailed in our publication referenced above.